Deze klant is een van de grootste fabrikanten van huishoudelijke apparaten in Polen. Als onderdeel van een multinational produceren zij bijna een derde van het totale volume in de regio Europa, het Midden-Oosten en Afrika. Het is een belangrijke speler op de markt, die de productiecapaciteit van zijn fabrieken ontwikkelt.
DE UITDAGING
Continuïteit van de productie is een prioriteit voor de klant. Wanneer een bedrijf tijdens het vakantieseizoen de productie twee weken stillegt, produceert het geen onderdelen. Echter moeten deze onderdelen non-stop beschikbaar zijn. Daarom is het noodzakelijk een tijdelijk magazijn te creëren waar elementen worden opgeslagen die op voorraad zijn.
Ook wanneer de klant besluit de machines te controleren of te onderhouden, moet hij bijvoorbeeld niet één miljoen, maar meerdere miljoenen onderdelen produceren en een geschikte plaats voorbereiden om ze op te slaan.
Een andere situatie is het gevolg van onvoorziene gebeurtenissen. Bij de klant brak brand uit in de fabriek van zijn leverancier (productie van rubberelementen) en moest er een ruimte worden ingericht voor de opslag van onderdelen in honderden Gitterbox-manden.
Waarom zijn Gitterboxen de ideale ladingdrager voor de verwerkende industrie?
Gitterboxen zijn robuuste metalen draadcontainers die worden gebruikt in de industriële en productiesector. Ze worden vaak gebruikt in reguliere toepassingen als opslagvuilnisbakken voor onderdelen en componenten of als tijdelijke opslag wanneer componenten worden gerouleerd tussen leveranciers of binnen dezelfde fabriek.
DE OPLOSSING VAN ROTOM
We werken al enkele jaren met een klant die we flexibele huur kunnen aanbieden. Het is een huurmodel voor grote bedrijven met één vast tarief. Het is behoorlijk aantrekkelijk voor grote bedrijven op de markt omdat het eenvoudig de kosten berekend.
Hoe ziet de verhuurdienst er in de praktijk uit?
Het bedrijf stuurt een aanvraag voor een bepaald aantal vuilniscontainers en wordt onmiddellijk geïnformeerd over het tijdstip van inzameling. Aangezien het samenwerkingsmodel geen termijnen omvat, geeft de klant het product terug als hij ze niet meer nodig heeft. Het is een handige oplossing omdat de klant het dagtarief kent en snel kan inschatten dat hij, als hij gitterboxen voor een maand of twee nodig heeft, een vast bedrag betaalt en dan de ladingdrager teruggeeft.
De klant hoeft ook niet te investeren in de aanschaf van ladingdragers. Op deze manier wordt ruimte bespaard in het magazijn omdat de ladingdrager niet ongebruikt blijft staan na een intensieve gebruiksperiode.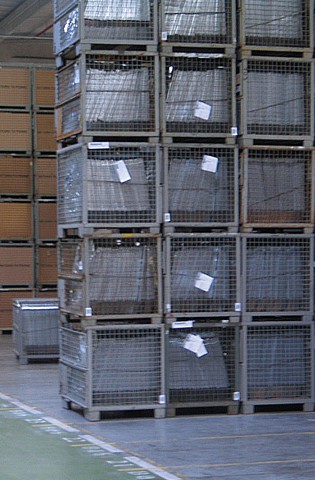 RESULTATEN
De klant is om verschillende redenen tevreden over de samenwerking met ons. In de eerste plaats is het een handige en voordelige oplossing. Een dergelijke ladingdrager is nodig voor één, twee of drie maanden. Zelfs als de klant de ladingdrager na de nuttige levensduur doorverkoopt, zal hij verlies lijden omdat de huurkosten lager zijn dan het prijsverschil tussen nieuwe en gebruikte ladingdragers.
Ten tweede, de samenwerking is uitstekend omdat we altijd de ladingdrager hebben die nodig is. We krijgen de kunststof bakken altijd op tijd – vandaag bellen en morgen ophalen. We proberen altijd een paar honderd Gitterboxen beschikbaar te hebben. In totaal hebben wij tienduizenden ladingdragers in omloop. Zelfs als we geen gebruikte ladingdragers hebben, investeren we in de aankoop van nieuwe om ervoor te zorgen dat de juiste ladingdrager de klant altijd zal bereiken.
Bovendien geven wij om de veiligheid van de ladingdragers, want de verhuurservice omvat ook service en reparatie. Zo kunt u er zeker van zijn dat uw ladingdrager volledig operationeel is en veilig kan worden gestapeld.
Waarom is het voor bedrijven handig om ladingdragers te huren bij Rotom?
Veel bedrijven in Europa verhuren slechts één soort ladingdrager, bijvoorbeeld één soort pallet. Maar bij Rotom hebben we een breed scala aan verhuur van verschillende producten – van houten pallets tot kunststof en metalen ladingdragers. Ook verlenen wij service aan deze ladingdragers- zodat elke ladingdrager volledig operationeel is in elke fase van de supply chain.