Onze klant is een leider in de detailhandel van de voedingsmiddelenindustrie in Polen, reeds actief op de Poolse markt gedurende 25 jaar. Het heeft momenteel (aan het eind van de eerste helft van 2021) 3154 winkels, gevestigd in meer dan 1100 steden. De pijlers van de strategie van het bedrijf zijn zorgvuldig geselecteerde producten (voornamelijk levensmiddelen) van hoge kwaliteit tegen concurrerende prijzen.
In 2020 werkte onze klant samen met meer dan 1.000 Poolse leveranciers, waar 92% van de producten in het aanbod van de keten afkomstig waren. Momenteel heeft het bedrijf ongeveer 70.000 mensen in dienst en is het de grootste particuliere werkgever in Polen. De waarde van de investeringen van onze klant over een tijdsperiode van meer dan 26 jaar bedraagt meer dan 14 miljard PLN. Het bedrijf ontwikkelt zicht tot op heden nog steeds zeer dynamisch; met meer dan 17 distributiecentra, en meer dan 4 miljoen bezoekende klanten.
UITDAGING
Piek verkooptijden – bezorgdheid voor behoud van productversheid
Tijdens piekperioden, bijvoorbeeld voor de feestdagen, reorganiseert de klant de het logistieke process in de distributiecentra om de toename van de orders efficiënter te kunnen opvangen. Tijdens periodes van verhoogde activiteit is er niet genoeg ruimte in het magazijn. Daardoor is het niet mogelijk om alle bestellingen tijdig te verwerken, omwille van de beperkte capaciteit van de logistieke faciliteiten. Bovendien is een hoge kwaliteit van de verzonden levensmiddelen van cruciaal belang. De goederen moeten bij strikt gecontroleerde lage temperaturen worden verzonden om een constante hoge kwaliteit te garanderen. Dit is van essentieel belang omdat een gebrek aan temperatuurbeheersing tijdens het transport de goederen kan beïnvloeden en ontevredenheid bij de klant kan veroorzaken.
Waarom koos de grootste detailhandelaar in Polen voor isothermische rolcontainers?
Isotherm rolcontainers worden vaak gebruikt voor het vervoer van levensmiddelen in de zogenaamde "koude keten". Je kan ze vergelijken met een thermosfles – ze zorgen voor de vereiste temperatuur gedurende een langere transporttijd zonder extra koelapparatuur, waardoor ze ideaal zijn voor korte en middellange afstanden. Ze zijn een goede keuze voor het vervoer van verse levensmiddelen.
De klant had een grote vraag naar gekoelde rolcontainers, maar besloot dat onze huuroptie veel voordeliger was wanneer men de aankoop- en huurkosten vergeleek.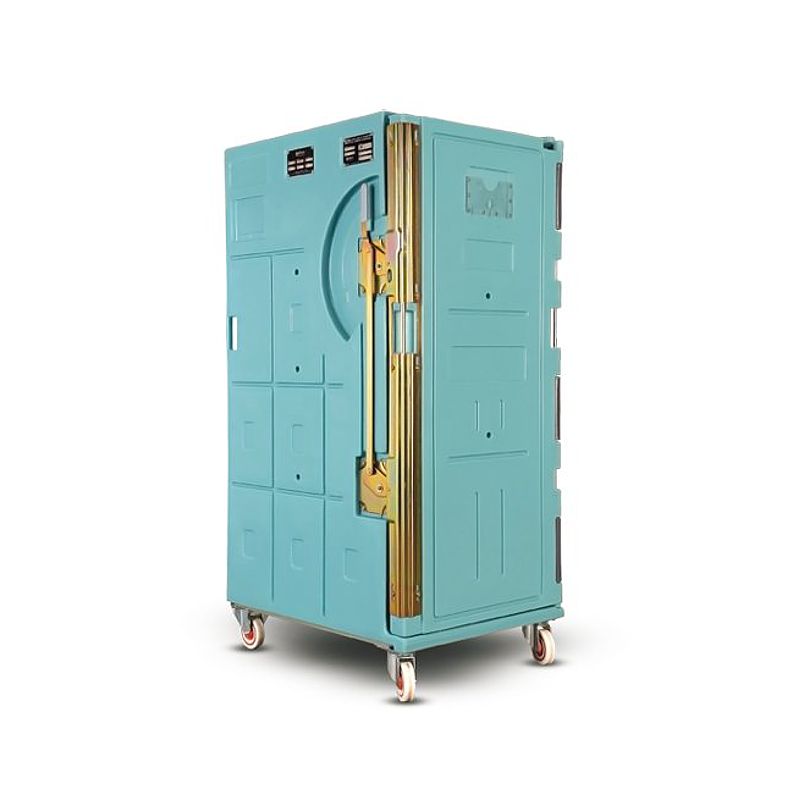 Flexibel verhuur van ladingdragers als oplossing
De winkelketen van de klant voorziet ruim op voorhand de huur van isotherm rolcontainers bij Rotom. Zo kunnen zij zich optimaal voorbereiden op deze drukke periodes. Het is een uitstekende oplossing voor het bedrijf omdat de jaarlijkse behoefte aan koelsystemen voor transport wordt gedekt. Op deze manier garanderen de logistieke managers de kwaliteit van de dienstverlening en optimaliseren zij tegelijkertijd de besteding van het budget.
Hoe ziet het financieringsmodel eruit bij verhuur van ladingdragers?
Ladingdragers voor de bescherming van levensmiddelen werden hoofdzakelijk gebruikt tijdens piekperdiodes, wat betekent dat zij voor een half jaar amper of niet gebruikt worden. Het logistieke team staat in voor de spreiding en besteding van het budget voor het hele jaar – een vastgesteld bedrag dat zorgvuldig moet worden besteed. De aankoop van isotherme koelcontainers zou het jaarbudget (deels) opgebruikt hebben. Om die reden schakelende zij over op een huuraanbieding voor een periode van minimaal 3 jaar. Dit bleek voordeliger te zijn, want hoe langer de huurperiode, hoe lager het maandtarief.
"DE KLANT BETALT ALLEEN VOOR HET PAKKET ALS HET WERKT."
Krzysztof Skrobot – Sales manager
PROJECTRESULTATEN
De klant werkt al jaren samen met Rotom en ziet duidelijk financiële voordelen vanaf het begin van dit proces. Daarnaast staan wij gedurende het hele huurproces garant voor de kwaliteit van onze rolcontainers. Dit doen wij door een snelle en vriendelijke service te verlenen en reparaties uit te voeren waar nodig. De samenwerking met Rotom verloopt uiterst vlot omdat we dezelfde visie hebben over de gebruikte grondstoffen, en de huur van isotherm rolcontainers een duurzame oplossing is op het vlak van milieu en financiën.
Als u interesse heeft in de huur van ladingdragers en graag een kundig advies en/of analyse hebt van uw supply chain, staan wij voor u klaar. Wij bieden het complete pakket aan: een compleet advies, reparatie, service, after-sales service.
Hebt u verder nog vragen? Vul dan het formulier in of bel ons.